It's Arrived!
The Official AHA
RSA Industry ID Card
Only $19.99
This is the official AHA RSA Industry ID Card for hospitality specials and VIP benefits such as:
Exclusive special event invites
Product specials
Industry nights


The AHA RSA Industry ID Card certifies your RSA qualifications with the added bonus of being an official Industry ID with access to many insider benefits.
The RSA ID card can be used together with or instead of, a paper certificate to prove you have successfully completed the required mandatory RSA training.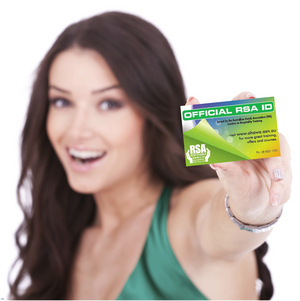 Benefits include:
Can replace paper certificate

Durable plastic in a convenient wallet sized card

Date of completion

Evidence of course title, qualifications and unit code

Your name & certificate number

Industry ID Card also for Hospitality Specials and VIP Access

AHA(WA) Training contact details for future reference
Ordering your Official RSA ID Card is simple
Already completed your RSA course and have your certificate?
Purchase the Official RSA ID Card by clicking here.
Don't yet have your RSA certificate?
You need to complete the RSA course prior to receiving your ID card. Tick the box on the final payment page of your online RSA course, choosing your preferred option of either the card on its own for $19.99 or for both the card plus a printed and posted Official AHA colour certificate for framing for $29.99.
Start RSA Training Now.


TAKE PART TODAY!
10,000 customers immediately connected to your business
AHA(WA) members are invited to take part in this exclusive AHA RSA ID Card opportunity.
Click here to login as a member and find out how your business can participate.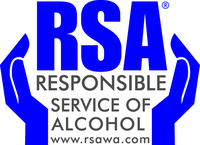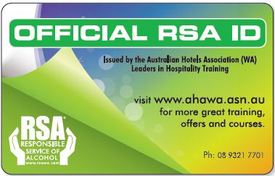 While course dates and information are provided for your convenience on the AHA(WA) website and Training Calendar, please be aware dates and times may change. Contact 9321 7701 to find out more.
Providers of Responsible Service of Alcohol (RSA) and Approved Managers Course (Management of Licensed Premises MLP 1), leaders in hospitality training.